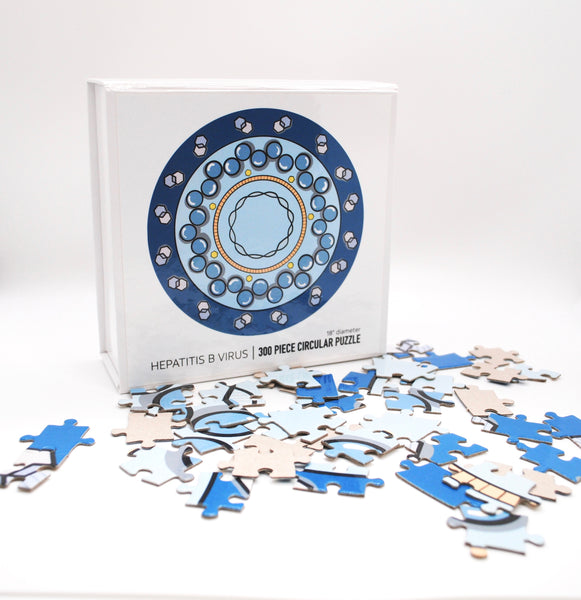 Hepatitis B Virus Puzzle
Quick Overview

• High quality 300 piece round puzzle
• High glossy finish
• 18" inch diameter
• Same week FREE shipping
• Hassle-free return policy
• Box dimensions 5.8 x 5.8 x 2"



ABOUT THE HEPATITIS B VIRUS
Hepatitis B virus (HBV) is a partially double-stranded DNA virus which directly causes hepatocytes to change the action of proteins encoded by the virus and indirectly increases the intracellular reactive oxygen species post-infection. HBV particles have an outer lipid envelope and an inner core composed of proteins in a icosahedral shape. The core encloses viral DNA and DNA polymerase with reverse transcriptase capabilities.
HBV can lead to Hepatitis B, a viral infection that attacks the liver causing acute and chronic infections. Hepatitis B is transmitted through bodily fluids and preventable by vaccination.
SHOP ART PUZZLES BY K.L.V.
Shop affordable puzzles designed in the USA. All puzzles are based on original artwork by Kella L. Vangsness. Their high-quality, glossy finish makes these stand out in the world of puzzling.
SHIPPING & RETURNS
Our estimated shipping time is within 1-5 days of purchase. Your delivery date will be determined based on your address and shipping method.
If for any reason you are not satisfied, you may return your puzzle within 14 days for a replacement or full refund minus the cost of shipping.
Our collection of science puzzles are perfect for anyone looking to incorporate modern artwork into their favorite relaxing pastime. Science art, or biologic art makes great gifts for medical students, medical professionals, and science enthusiasts.
Related products
You might also like