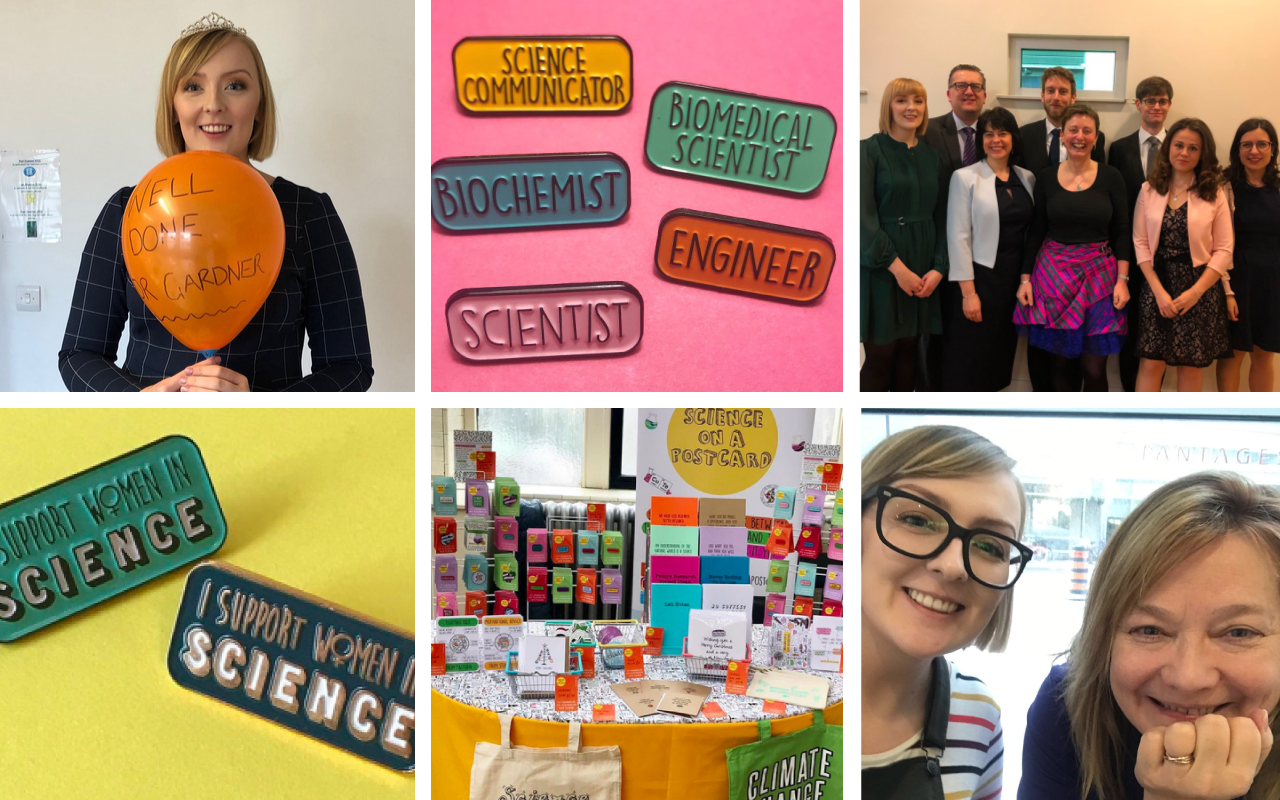 Dr. Heidi Gardner: Clinical Trials Methodologist
Top left: Celebrating after my PhD viva. My colleagues gave me my own tiara. (A viva voce is the oral test to defend your PhD thesis in front of a panel of academic experts.) Top center: Dr. Gardner's pins showcases different STEM professions.Top right: Dr. Gardner and her colleagues prior to collecting the Queen's Award for research excellence, which was awarded to the University of Aberdeen's Health Services Research Unit (HSRU) and the Health Economics Research Unit (HERU) (From left to right: Dr. Gardner, Prof. Craig Ramsay, Prof. Marion Campbell, Ruben Sakowsky, Prof. Mandy Ryan, Alastair Irvine, Maria Dimitrova, Beatriz Goulao) Bottom left: Women in Science pins.The biggest selling pins for Science On A Postcard. Bottom center: Dr. Gardner's shop, Science On A Postcard. Bottom right: Dr. Gardner with Prof. Imogen Coe in Toronto during her research Fellowship in early 2019.
In this month's feature we will hear from Dr. Heidi Gardner, a Clinical Trials Methodologist and owner of Science On A Postcard, a science-focused product range of enamel pins, notebooks, stickers, and more. It was her unique enamel pin badges donning titles such as, "Computer Scientist", "Engineer", and "Future Scientist", that first caught my eye. Her products steer us away from the expected cookie-cutter labels and towards personal expressions of individuality in STEM fields. Science On A Postcard has earned mass appeal by bringing color and excitement to merchandise we can use to proudly display our love for science.
I look forward to sharing Dr. Gardner's insights into her career, what a Clinical Trials Methodologist specifically does, and how her creativity is an integral part of her problemsolving technique. We also get to hear how she uses social media to bring attention to female scientists as well as her favorite parts about being in both artistic and scientific fields. Creators and thinkers, like Dr. Gardner, are helping to expand what it means to be a scientist and creative. Read on to hear more about Dr. Gardner and how to shop Science On A Postcard.
What is your field of work?
I'm a Clinical Trials Methodologist. I do research on the way we design, plan and conduct clinical trials ('research on research'), so that we are making trials as efficient, and evidence-based, as possible.
What is your creative outlet/work?
I run Science On A Postcard, a very small business (it's just me!) that aims to design and create products that spark conversations between those who love science and those who haven't discovered it yet. At the moment our most popular products are enamel pin badges, so lots of design work involving small spaces, bold colours and lovely fonts. I also make notebooks, postcards, tote bags and pocket mirrors – all with a science twist.
What aspect of your career is creative? How do you bring creativity into your work?
Honestly, I think all science is creative! My field of research specifically, trials methodology, is creative because I spend all day every day trying to solve problems. If we didn't think creatively, those problems would never be solved. Those problems could be anything from 'How do we recruit enough people into a trial to make the results valid?', to 'How do we explain trials effectively to the public so that they can make an informed decision about taking part?'. I guess "straightforward" creativity like art etc., does come in too. Every project I work on needs to have its results shared with the public, so I like to use illustrations, videos, animations etc. in that process too.
To you, what, if any, is the relationship between science and creativity?
To me science and creativity are two interwoven concepts that are very difficult to pick apart. If you look at the definitions of each of those words, I think the link between the two is really clear:
Science: The intellectual and practical activity encompassing the systematic study of the structure and behavior of the physical and natural world through observation and experiment.
Creativity: The use of imagination or original ideas to create something.
Without creativity, we would not be able to push the boundaries and advance science; we'd be unable to make new discoveries, think of new experimental techniques, design new technologies, or come up with new ways to observe and test what is happening around us.
Scientists are often told that they're not creative, and creative people often think they're not scientific – but both activities are crucial to everyday life, no matter how we use those skills.
Growing up, what creative and/or scientific influences made an impression upon you? Who or what are your current inspirations?
Growing up, creativity was everywhere for me! When I was very little my Mum had her own business working in PR, and she now runs a greetings card company, and my Dad has always been in marketing, he runs his own web design business. As cheesy as it sounds, they are both creative inspirations for me. When it comes to science, I didn't really have one specific inspiration. I was quite good at science at school, particularly biology, but none of my teachers really encouraged me to go into science and no one ever told me about clinical trials in detail. I think I sort of stumbled across my research field by reading books like 'Bad Pharma' and 'Bad Science' by Ben Goldacre, and that inspired me to do something about the problems I'd read so much about. Now my inspirations are all of the people working around me. I have a fantastic team of colleagues working with me at the University of Aberdeen's Health Services Research Unit and I learn from them every day. 
Creatively, I am constantly awe-struck by the work of Christine Liu, who runs Two Photon Art. She's been a huge inspiration for me setting up Science On A Postcard, and I love how she uses her creativity to give back to the scientific community. I'd love to grow Science On A Postcard to a point where I'm able to do that too.
What is your favorite part about your creative work?
[My favourite part about my creative work is] digitally drawing something, spending so much time perfecting it, tweaking hard edges and zooming in close, and then being able to hold a product in my hand after that process is complete. The reason I love designing pins so much is because people can wear them! Seeing my designs out in the wild is such a surreal experience, I hope I never stop getting excited when I see them.
What is your favorite part about your scientific work?
[My favourite part is] finding something out and being able to give that information to someone to implement it to make their job easier and trials stronger. My whole PhD looked at participant recruitment into trials, and it really kept me motivated knowing that my research might make it just a little bit easier for people to bring participants into their trials.
What does it mean to you, to be a woman in your field?
I'm in the fortunate position of being based in a research unit where I've never, ever experienced any form of discrimination for being a woman. Obviously, that's how it should be, but for lots of women in STEM that isn't the case. The unit that I work in is female-dominated and offers lots of flexible working options for parents of all genders – gender really isn't an issue here. That said, I'm very conscious of being a visible woman in science. I try to be open with the work that I'm doing, particularly online via Twitter and Instagram. There are so many young girls that are conditioned to think that STEM subjects are not for them, so I want to make sure that I am seen and enjoying a career in STEM.
Dr. Gardner and her best friend in Edinburgh sharing her passion for her field and giving a talk at Soapbox Science.
Thank you to Dr. Heidi Gardner for this interview.
Shop Science On A Postcard's vibrant and colorful products on Etsy and connect with Dr. Gardner on social media.
https://www.instagram.com/scienceonapostcard
https://www.etsy.com/shop/scienceonapostcard
Once a month a new interview will be released highlighting a woman in STEM discussing creativity and its intersection in their field. To participate or nominate someone you know, please contact us. Sign up for our newsletter to receive interviews right in your inbox.
Follow us on Facebook and Instagram for more art, prints, and updates.